THE BITCOIN PARADIGm – Neuchâtel – 24 June 2022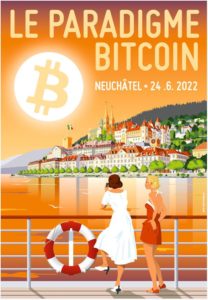 Programme
Early morning: Meeting between local industrialists and Bitcoin entrepreneurs, organised by the Neuchâtel Chamber of Commerce and Industry. Private event by invitation only.
10:15-11:45: Book signing at the Payot bookstore in Neuchâtel with Jacques Favier and his book La monnaie à pétales. There will also be other authors and books present. Free public event.
12pm-3pm: Corner meal by the lake, organised by the Cercle du Coin association. Participation on registration and selection.
16:00 to 17:30: Two parallel conferences, co-organised with the University of Neuchâtel (Master in Innovation and LexTech Institute), free public event, no registration required.
"The non-monetary uses of Bitcoin" by Gilles Cadignan, Founder of Woleet, Bitcoin protocol specialist
"Presentation of the RGB protocol by Maxim Orlovsky and Olga Ukolova, Founders of LNP/BP Standards Association
Both conferences will be introduced by State Councillors: Alain Ribaux and Crystel Graf.
5.30 pm to 8 pm: Aperitif at the university. Public and free, no registration required.
8pm until late in the evening: BITCOIN PARADIGm evening by the lake, at the Vio. Public and free, no registration necessary.
For more information: http://ludom.cc/index.php/2022/05/09/le-paradigme-bitcoin-neuchatel-24-juin-2022/
Copyright © 2023 Blockchain Neuchâtel